Mitchell Design is an Australian owned and operated company with over 30 years experience.
We offer the most comprehensive range of quality window furnishing suitable
for both residential and commercial projects.
At Mitchell Design, customer service is our priority. From expert design advice to offering an impressive range of product color swatches, we do everything possible to ensure your total satisfaction.
Our aim is to make decorating your home as easy and enjoyable as possible, while providing you with first quality products that you will be proud to own.
Every product we offer comes with a 100% manufacturers' warranty. Our experienced sales staff are always available to answer any questions or liaise with your architect or builder to help you solve any window problem.
Mitchell Design offer a complete line of window coverings to suit any internal décor. Our products cover the windows of many Australian homes with styles ranging from the basic to the latest in window decorating trends.  
We are constantly updating our fabric ranges with current trends and colours to ensure you can achieve the exact look your property deserves.
We have experts available who will gladly help you create the beautiful windows you've always wanted for your home. 
If you would like to receive an obligation-free quote on your window furnishings, please contact our friendly Sales Consultant Graham Mitchell on 02 9624 1114 or 0408 298 465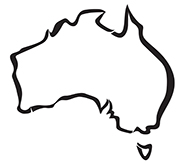 AUSTRALIAN MADE
Many of our fabrics and manufacturers of our blinds are licensed to carry the Australian Made symbol, bringing with it an assurance of quality and trust